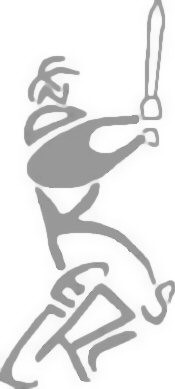 Knockers Vs West Monkton
Win ::
Played on Friday 28th July 2017
Knockers
285-2
West Monkton
155-10
Match Report
Ed Springett wrapped up the tour as a king among men. West Monkton were the unfortunate recipients of a brutal daddy ton as he set a new Knockers batting record with 174 not out, sharing a record second wicket partnership with Sachin Rawson. Guy Howe then picked up his best return with the ball as Knockers ended a lively tour on top form.

Freddie Young had the task of marshalling a depleted touring squad suffering from Jaeger-bomb-itis. He won the toss and opened the batting with Ed Springett. Freddie's late cut for four was the highlight of the first ten overs as Knockers raced to, erm, 24.

Ed Marsh triggered the skipper on an LBW appeal and the Springett-Rawson show began. Each change of bowling was sent packing as Knockers' discomfort of a hangover and concerns of how badly we might do turned to unease at how we were treating our hosts.

Sachin battled to turn his form around and was dropped early into his hard fought fifty. The Monkies' skipper dropped a simple enough chance off Ed on 20 and it proved a 154 run mistake.

Springett hit eight sixes, four resulting in lost balls, as a twenty foot fence on the straight boundary failed to protect a new housing estate from his onslaught. Sachin worked the singles, rotating the strike perfectly as the rain crept in further dampening home spirits.

Sachin finally gave way to Lynden, who was pleased to boost his average with another not-out despite Landers' attempts to both farm the strike and run him out following Springett's retirement.

As Knockers took to the field it had moved on from drizzle to rain but the hosts, being decent chaps, let the inevitable happen and got on with letting us wrap the tour up on a high.

Agnew asked question after question, getting three replies that made him happy, two bowled and one to Mr Tour - Ed Springett's safe hands. Rory Goodson creaked his way through four overs at the other end to finish the tour with no wickets, no runs and no catches. He did however get the most beers, traffic cones and hotel complaints to balance matters out.

Guy Howe had boosted numbers following some flimsy excuses to leave early from some. Guido ripped through the middle order, nearly bagging a five-fer. His successful Ken Cowan-esque LBW appeal being the pick of his beautiful foursome.

Marsh sent down a few, a five minute setting of the field just to send down a long-hop being a highlight. Gerald picked up a tour wicket, bowling a danger man around his legs and Lando mopped up the tail with some absolute filth, aided by a great Marsh catch a deep square leg.

Both hosts and guests looked a tad sheepish at the close. They took it well though and although they stopped short of inviting us back, things were good. Very good....


&nbsp
Batting
&nbsp
Bowling
| Bowler | &nbsp &nbsp Overs | &nbsp &nbsp Mdns | &nbsp &nbsp Runs | &nbsp &nbsp Wkts |
| --- | --- | --- | --- | --- |
| Hector Agnew | &nbsp &nbsp 4.0 | &nbsp &nbsp 2 | &nbsp &nbsp 7 | 3 |
| Rory Goodson | &nbsp &nbsp 4.0 | &nbsp &nbsp 0 | &nbsp &nbsp 17 | 0 |
| Guy Howe | &nbsp &nbsp 8.0 | &nbsp &nbsp 0 | &nbsp &nbsp 46 | 4 |
| Ted Marsh | &nbsp &nbsp 3.0 | &nbsp &nbsp 0 | &nbsp &nbsp 14 | 0 |
| Gerald McBrearty | &nbsp &nbsp 3.0 | &nbsp &nbsp 0 | &nbsp &nbsp 17 | 1 |
| Scott Landers | &nbsp &nbsp 5.0 | &nbsp &nbsp 0 | &nbsp &nbsp 46 | 2 |
| Sachin Rawson | &nbsp &nbsp 3.0 | &nbsp &nbsp 0 | &nbsp &nbsp 16 | 0 |
&nbsp

Match Photos