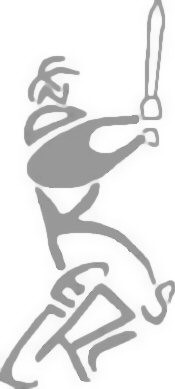 Knockers Vs Cowdrey
Win ::
Played on Sunday 19th July 2020
Knockers
205-7
Cowdrey
152-10
Match Report
Raining? Yes. Pathetic fallacies? A second-innings stretch. Late knockers? Calver and Telliot.

A toss win led to openers T Marsh and Horner precipitating their way to the crease for a delayed start of this 30-over game. Tremendous props to the oppo captain for keeping the game ticking despite the conditions, it must be said. Minded towards gleeful tons in their first game of the summer, Marsh and Horner eased into a pacy start, showing little sympathy to the young opening bowlers with some early boundaries flowing. Unsurprisingly, neither would last to cash in for long. Seb lost out to one that jagged in with little bounce, Calver came in and lost out to one that jagged in with little bounce and, shortly afterwards, Ted lost out to one that jagged in AN ABSOLUTE MILE with little bounce. Lessons to learn ahead of the next batch of fixtures.

Thankfully, Goushi and Boreham had their eyes in and heads screwed on. Both read the bounce of the pitch well and dismissively took apart the key middle overs in a partnership that propelled us towards a big total. Boreham in particular batted with a flair that will be very welcome this Friday on the Vine. Especially if he gets a decent bat. Goushi might need a rain-resistant grip having flung his bat to mid-wicket for one shot. Both were eventually caught out on the swing and a Landers-Seldon partnership took over. Of the two out there, it was the calm, elegant, measured, graceful, rugged poise of Scott* that kept the runs flowing as we headed into the death overs. His reputation for powerful off driving truly on show.

Ollie came in at the end and whacked some healthy boundaries (inc obligatory scoop) to take us to the close as we passed the 200 mark and finished on 205. Great shift with some important partnerships and pinch hitting when needed.

We're all fans of a good match tea. I can categorically say that nothing will beat it. However, if the new normal involves nipping to McDonalds between innings for a rushed McChicken Sandwich then I can hang around. Whispers of a sponsorship from floundering flexitarians abound.

We'd be forgiven for suggesting that the brightness of the Knockers' batting had a literal effect on the skies above as the sun reared it's timely head as we set out to defend our total. What can I say, spirits were high. Of course, this needed remedying and, in spectacular fashion during the third ball of the innings, some byes calling for a Rory sprint were extremely costly as the hip flexors of our now 23 (?) year-old veteran couldn't handle the unexpected burst. 4 runs conceded and 1 opening bowler out for the count. Happy birthday, Rory.

If you thought that Knockers was becoming a Marsh dictatorship, you'd be absolutely correct. Ted all too happily partnered his brother to whistle through a couple of overs while the team attempted to rally from the devastation of the Goodson loss. 4 wickets (including 2 hattrick balls) went down in the opening 4 overs. A great start but some solid partnership play from Cowdrey pushed them forwards. While never on top of the run rate, B Scott and Jonah did well against some tidy bowling from Ziggy and Telliot. After Scott fell to Tells, it began to feel like the beginning of the end but some power hitting from the opposition captain made for a slightly squeakier final 10 overs than was expected. Overs thrown in from our Scott, Seb, Goushi and a reinvigorated, off-spinning-with-a-similar-aplomb-to-Swann Rory created some final chances in the closing overs but the oppo eventually made it through their 30, losing their 10th on the final ball of the match.

A great win for a group itching to be out there and the 100% start continues into the Old Oaks game. More whispers.

Questions to take away from today: will Paul ever let a quick single go again?; will Boreham bring up his stats from the 90s/00s on the Vine this Friday?; will Ollie bring hand sanitiser and not soap next time out?; will Rory be able to walk tomorrow?

Thanks for a cracking day, fellas.

TM

*(Editor) seeing as Ted forgot to expand on his asterisk, it is only fair to point out that his words can only be associated with Snellers in fine form. Scott did indeed play some beautiful off drives - all approximately three seconds after the ball had nestled in the keeper's gloves.
&nbsp
Batting
&nbsp
Bowling
| Bowler | &nbsp &nbsp Overs | &nbsp &nbsp Mdns | &nbsp &nbsp Runs | &nbsp &nbsp Wkts |
| --- | --- | --- | --- | --- |
| Ollie Marsh | &nbsp &nbsp 2.0 | &nbsp &nbsp 1 | &nbsp &nbsp 2 | 2 |
| Ted Marsh | &nbsp &nbsp 2.0 | &nbsp &nbsp 0 | &nbsp &nbsp 13 | 2 |
| David Bowen | &nbsp &nbsp 7.0 | &nbsp &nbsp 0 | &nbsp &nbsp 29 | 0 |
| Tom Elliot | &nbsp &nbsp 5.0 | &nbsp &nbsp 0 | &nbsp &nbsp 27 | 1 |
| Scott Landers | &nbsp &nbsp 5.0 | &nbsp &nbsp 0 | &nbsp &nbsp 23 | 2 |
| Seb Horner | &nbsp &nbsp 4.0 | &nbsp &nbsp 0 | &nbsp &nbsp 24 | 1 |
| Gousheeg Raviendran | &nbsp &nbsp 2.2 | &nbsp &nbsp 0 | &nbsp &nbsp 6 | 1 |
| Rory Goodson | &nbsp &nbsp 2.0 | &nbsp &nbsp 0 | &nbsp &nbsp 7 | 0 |
&nbsp

Match Photos