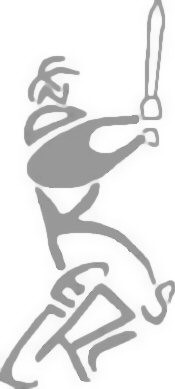 Knockers Vs Farningham
Win ::
Played on Sunday 2nd August 2020
Knockers
294-8
Farningham
223-6
Match Report
Knockers made the journey to Farningham last Sunday. This was a particularly long journey for Calver, who had shown impressive commitment to make it from Wolverhampton. In a surprising turn of events, Knockers fielded 11 players despite two drop-outs on Sunday morning - John Mitchell and Anton deserve particular thanks for making up the numbers at very late notice. Finn lost the toss, however, the Farningham skipper chose to bowl first - a decision possibly influenced by Scott informing him that we only had one batsman.

Charlie and Scott opened the innings for Knockers. It quickly looked like bowling first was a good decision as both opening bowlers were swinging the ball considerably. Scott was unlucky to get a good ball, which he edged behind. Ziggy was next to the crease. While he managed to deal with the swing, he fell quickly following an unfortunate run out looking for two. JT was next in and after briefly looking solid he too edged behind. Knockers were struggling as this wicket led to a score of 16 for 3. However, Charlie had been looking increasingly comfortable, while he watched his partners fall at the other end. His strong cutting belied the fact that this was his first game back after a long break. One particularly nice drive led to Snellers wondering whether Charlie could be recruited to play Saturday cricket as well. Calver was the next man in and continued his fine form. He built a very good partnership with Charlie as both batsmen transferred the pressure back onto the bowlers. Charlie reached his 50 first and was quickly followed by Calver. Knockers looked set for a big total, having reached 118 off 18 overs at drinks.

This partnership continued after drinks, although Ziggy (possibly looking for revenge for the earlier run out) gave Charlie out stumped. This decision was overturned by Scott who pointed out that the keeper did not have the ball, when he removed the bails. Charlie fell shortly afterwards caught at square leg. This brought Snellers to the crease. He had spent the afternoon trying to talk himself down the order as he 'didn't feel like it', however the threat of being made to bowl was eventually enough to convince him to bat. Once Snellers started to bat he looked in very good form picking up two sixes in his first few balls. Calver also scored freely as they pushed Knockers past 200 in the 27th over. Calver was out LBW shortly after this, bringing John to the crease. John looked comfortable but fell to a good catch as he selflessly looked to push the rate. Kuts was next in. After playing his trademark sweep to his first two balls, he strayed from the sweep and was caught. Matt then formed a good partnership with Snellers as they both scored freely and put Knockers into a very strong position. Snellers, having reached his 50, fell and Finn joined Matt for the last over, which they took for 14.

Despite being 16 for 3, Knockers reached 294 for 8 in 36 overs (the club's fourth highest total).

Knockers were eager to get into the field, knowing that they had a good total on the board and a strong bowling line up. Anton and Matt opened the bowling. Both bowled with good control and restricted the Farningham batsmen effectively. Matt picked up the first wicket as he bowled one of the openers. Kuts took over from Anton down the hill as Matt continued to induce play-and-misses from the other end. Kuts quickly found his rhythm and bowled very nicely. The RRR climbed to over 10 by the time Finn decided to replace Matt and Kuts with the deception of Scott and John. John made a break-through as he tempted the remaining opener out of his crease for Calver to take off the bail. Scott almost picked up a wicket: Farningham's no.3 having already made 50 of their 80 runs hit the ball powerfully to Kuts, who unfortunately dropped a hard chance, however, the batsman fell over while playing the shot and (sadly) had to retire hurt with a sprained ankle.

As Farningham were keeping up with the run rate, Finn turned to Ziggy and Charlie to get some control back. Ziggy quickly delivered picking up three quick wickets of dangerous-looking batsmen. He was well supported in the field as Finn held a catch at deep mid-wicket and Snellers held two at long-on. Snellers' second catch was a particularly impressive diving catch, which even he was impressed with. Ziggy did not enjoy his wickets as much as the rest of the team as he took to celebrating with his head in his hands leading Scott to wonder whether he was exchanging brain cells for wickets. Charlie bowled well up the hill and was unlucky not to get an edge. As Ziggy was struggling, the opening bowlers returned to finish the game. Both bowled well and Matt picked up another wicket as finally a flashing stroke resulted in an edge which was held by Calver.

This was another good win for Knockers to extend our unbeaten run.


&nbsp
Batting
&nbsp
Bowling
| Bowler | &nbsp &nbsp Overs | &nbsp &nbsp Mdns | &nbsp &nbsp Runs | &nbsp &nbsp Wkts |
| --- | --- | --- | --- | --- |
| Anton Kinsler O'Sullivan | &nbsp &nbsp 6.0 | &nbsp &nbsp 3 | &nbsp &nbsp 17 | 0 |
| Matt Watts | &nbsp &nbsp 8.0 | &nbsp &nbsp 3 | &nbsp &nbsp 24 | 2 |
| Christian Kutner | &nbsp &nbsp 5.0 | &nbsp &nbsp 1 | &nbsp &nbsp 25 | 0 |
| John Mitchell | &nbsp &nbsp 5.0 | &nbsp &nbsp 0 | &nbsp &nbsp 58 | 1 |
| Scott Landers | &nbsp &nbsp 4.0 | &nbsp &nbsp 0 | &nbsp &nbsp 50 | 0 |
| Charlie Adam | &nbsp &nbsp 4.0 | &nbsp &nbsp 0 | &nbsp &nbsp 29 | 0 |
| David Bowen | &nbsp &nbsp 4.0 | &nbsp &nbsp 0 | &nbsp &nbsp 29 | 3 |
&nbsp

Match Photos