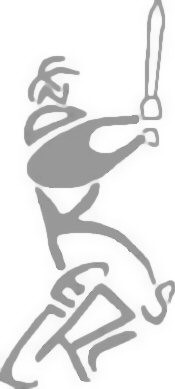 Knockers Vs Four Elms
Lose ::
Played on Sunday 9th August 2020
Knockers
187-8
Four Elms
188-6
Match Report
If England thought that their bowling selection dilemma was giving them a headache then the knockers had a full on migraine this week. With 14 available from Monday and no dropouts by Friday it was looking as though a few tough conversations were to be had. Landers kindly ceded his spot to Ted but as the threat of Four Elms CC loomed nerves began to rattle. Ziggy claimed to have no transport to the ground, Goodson managed to tweak a groin in the shower (another victim of the lockdown) and JT, lacking the use of one limb, put himself forward only as a specialist slip. This meant landers was back in, kindly giving a lift to Ziggy, Calver got some ringers in and astoundingly 11 supple young men arrived for the 2pm KO.

On a sticky, muggy August afternoon Captain Ollie Marsh managed to lose the toss but still bat first. Calver and Scott opened up against some tidy seam bowling, the former opting to test the cordon which was again found wanting, the latter pumping a sensuous short arm jab over long on. Landers (9) got a good one which brought debutant Alfie Gibbs to the crease who looked stylish with the bat as well as with his new headband. The scoreboard kept ticking but the change in attack to pace off did for both Calver (34) and Gibbs (26) confirming that there is no substitute for full and straight bowling. Dave came and went within a ball as the second debutant, Morrissey, fancied a bat and so triggered the new man in first ball. Dave was astounded at the decision but the only question mark was would the ball have hit middle or middle and off.

A drop in the run rate saw 15 runs come off 5 overs but a strong partnership between O. Marsh (27) and P. Seldon steadied the ship, both playing fluently and Paul (53) looking to impress his friend on the other team. Never again will we hear the words 'push for three' come from Snellers I fear. George, having discussed the intricacies of the backward cut as well as the inside out check drive over extra cover with every batsman in the team was unable to demonstrate his new fluency after too departing to a straight one that seemed to go through his bat first ball. With 200 in our sights, O. Marsh was skittled by the impressive Walker and late flourishes from Morrissey (5), E. Marsh (0*) and the destructive L. Mayne (17*) saw the knockers limp to 188 for 8 from our 30 overs.
BYO Tea was a grim affair. Calver forgot a fork so spooned his melted goats cheese salad with a finger, Gibbs was offered a molten protein bar from the depths of Snellers' bag which he dutifully ate, careful not to upset the Knockers' legend after being offered it for a third time. Mayne took a half pint before opening the bowling and it was Paul himself who opted to strawpedo 5 J20s (orange and passionfruit) to raise his sugar levels. Upon seeing that they only contained 63 calories this decision was the natural one to take.

Likely being 30 runs short the Knockers got ready for a fight with E. Marsh and Mayne the early aggressors but a sensuous drive for four off the first ball saw Seldon declare he was looking forward to getting home early. Despite neither bowling anything near to a poor delivery and opposition opener managed to amass his 50 off 4 overs (his partner only scoring a top edge over the ever redundant two slips). Amid Covid sanitisation protocol, the hyper-salivating run machine kept the pitch watered much to the annoyance of Landers. O. Marsh, breathing fire from his nostrils made the change to bowl some heat with Ziggy ragging from the other end. The earth shook and the rivers ran backwards as the titans went at each other, Marsh creating half chances whilst the opener scored freely everywhere. Marsh finally got the breakthrough but the damage had been done and the RRR was down at 4 an over so tight fielding was a necessity. Ziggy professionally went about his work, unable to get a wicket but holding an end down while Dave gave some neat wobble from the other end. Landers rolled an ankle which saw the threat of his bombs removed for the next few weeks.
At drinks the opposition needed 50 off 12 overs and hopes were high. Morrissey took over from Ziggy with more leg spin up the hill finding the turn which Bowen had extracted from the pitch. Mayne returned to the attack with some bodyline but although wickets were falling, the batsmen kept getting better. Despite out best efforts we were unable to contain the 10 man onslaught from Four Elms CC who claimed victory by 4 wickets.

The game marked an end to the unbeaten run yet it was an enjoyable and competitive afternoon which all celebrated with a beverage at the end. It was a great all round performance and the umpire congratulated the team on a good game whilst we congratulated him on his quite astonishing tan.

&nbsp
Batting
&nbsp
Bowling
| Bowler | &nbsp &nbsp Overs | &nbsp &nbsp Mdns | &nbsp &nbsp Runs | &nbsp &nbsp Wkts |
| --- | --- | --- | --- | --- |
| Ted Marsh | &nbsp &nbsp 4.0 | &nbsp &nbsp 0 | &nbsp &nbsp 31 | 0 |
| Lawrence Mayne | &nbsp &nbsp 5.0 | &nbsp &nbsp 0 | &nbsp &nbsp 34 | 2 |
| Ollie Marsh | &nbsp &nbsp 6.0 | &nbsp &nbsp 0 | &nbsp &nbsp 28 | 2 |
| David Bowen | &nbsp &nbsp 6.0 | &nbsp &nbsp 0 | &nbsp &nbsp 32 | 0 |
| Neil Dave | &nbsp &nbsp 5.0 | &nbsp &nbsp 0 | &nbsp &nbsp 33 | 0 |
| Tuppy Morrissey | &nbsp &nbsp 4.0 | &nbsp &nbsp 0 | &nbsp &nbsp 27 | 2 |
&nbsp

Match Photos