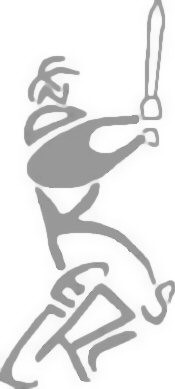 Knockers Vs Eridge
Lose ::
Played on Sunday 16th August 2020
Eridge
161-10
Knockers
135-8
Match Report
The moment had come. A backs-to-the-wall nine-man Knockers had done well to limit Eridge to 144 off 29 of their rain affected 30 overs. The clouds parted and a single ray of sun pierced the bruised sky and picked out the gloved lionheart that is Oli Boreham.

The moment of light did little to warm the spirits of the Eridge willow bearers. An ill-wind blew across the normally friendly high-ground as the cherry was taken. Rawlins, a man returned to the fold, was not ready for the effects of this. His hair grew and his stance widened as the ghost of Byron demanded a host so that he could witness this moment of verse embodied.

Each release was shock and wonder. The Eridge batsmen, tears in their eyes, were no longer players - they were merely pawns in a greater game of chess. That their bats happened upon abundant runs mattered not. This over will never be over - those nine brave Knockers both scarred and forever fortified by six swooning, soaring, scintillating moments.

Why speak of anything else?
&nbsp
Batting
&nbsp
Bowling
| Bowler | &nbsp &nbsp Overs | &nbsp &nbsp Mdns | &nbsp &nbsp Runs | &nbsp &nbsp Wkts |
| --- | --- | --- | --- | --- |
| Ollie Marsh | &nbsp &nbsp 6.0 | &nbsp &nbsp 1 | &nbsp &nbsp 10 | 4 |
| Rory Goodson | &nbsp &nbsp 6.0 | &nbsp &nbsp 0 | &nbsp &nbsp 19 | 1 |
| Christian Kutner | &nbsp &nbsp 6.0 | &nbsp &nbsp 0 | &nbsp &nbsp 38 | 0 |
| James Thompson | &nbsp &nbsp 5.0 | &nbsp &nbsp 0 | &nbsp &nbsp 40 | 4 |
| David Bowen | &nbsp &nbsp 6.0 | &nbsp &nbsp 0 | &nbsp &nbsp 35 | 0 |
| Oli Boreham | &nbsp &nbsp 1.0 | &nbsp &nbsp 0 | &nbsp &nbsp 17 | 0 |