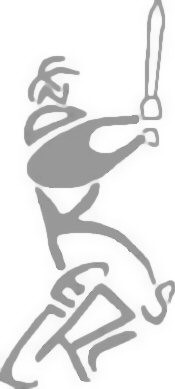 Knockers Vs Sheldwich
Lose ::
Played on Sunday 6th June 2004
Sheldwich
354-6
Knockers
137-9
Match Report
On a beautiful day down in Sheldwich the opposition we put in to face the wrath of the knockers bowling attack. G. Miller picked up the mantle of opening bowler and returned reasonable figures on a good batting track. The Sheldwich opening batsmen were clearly enjoying some generous bowling and raced away in the early overs taking 35 of one over from Jariwalla. The onslaught continued and only a swift catch from Paul Styles in the slips denied a century to one opener. The opposition carried on their extra-ordinary run rate to post a daunting total of 354 for 5 from their 40 overs. This target looking ominous for the knockers side was quickly made to look even further out of reach when Paul Styles was given out lbw in the first over. Oli Boreham then took over the role of main stay of the innings hitting 56 with some classy shots and intelligent batting. Support also came in the form of Knockers new boy Scott Landers 15 and Knockers 'legend' Peter Smith, who found some old magic 20no. Unfortunately, knockers were eventually dismissed for 137. Making this a record breaking match for all the wrong reasons.
&nbsp
Batting
&nbsp
Bowling
| Bowler | &nbsp &nbsp Overs | &nbsp &nbsp Mdns | &nbsp &nbsp Runs | &nbsp &nbsp Wkts |
| --- | --- | --- | --- | --- |
| Guthrie Miller | &nbsp &nbsp 10.0 | &nbsp &nbsp 0 | &nbsp &nbsp 59 | 1 |
| Ben Miller | &nbsp &nbsp 4.0 | &nbsp &nbsp 0 | &nbsp &nbsp 36 | 0 |
| Nick Jariwalla | &nbsp &nbsp 9.0 | &nbsp &nbsp 0 | &nbsp &nbsp 92 | 0 |
| Steven Trounce | &nbsp &nbsp 7.0 | &nbsp &nbsp 0 | &nbsp &nbsp 69 | 1 |
| James Cork | &nbsp &nbsp 9.0 | &nbsp &nbsp 0 | &nbsp &nbsp 71 | 2 |
| Oli Boreham | &nbsp &nbsp 1.0 | &nbsp &nbsp 0 | &nbsp &nbsp 17 | 0 |