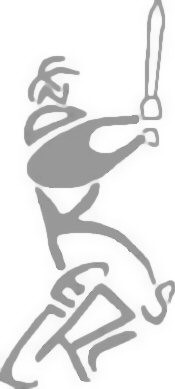 Knockers Vs Lemmings
Winning Draw ::
Played on Sunday 4th June 2006
Knockers
275-2
Lemmings
252-5
Match Report
An all time club record partnership of 222 runs was the highlight of Knockers' exciting winning draw against Lemmings at St Lawrence on Sunday. Knockers, having won the toss and batted first, lost two wickets early on but debutant Alex Rayner (114no) immediately took the fight to the opposition, hitting several sixes amongst many boundaries in his innings. He was backed up by Stuart Seldon (110no) and the pair batted serenely through to an imposing declaration at 275-2.

Knockers felt confident after this performance and enjoyed another excellent tea from Guthrie and Helen. The Lemmings however refused to lie down in their own innings and immediately took the fight to the opposition, with an opening stand of 195, and with 10 overs to go only 75 runs were required. This looked very achieveable considering the high run rates throughout the day. However, it was man of the match Rayner who slowed the run rate down in partnership with Paul Seldon as both took two wickets, and the middle order Lemmings batsmen struggled against the greater accuracy. Lemmings only needed 28 from the final two overs but were eventually unable to challenge the target and finished 23 runs short on 252-5 to claim a losing draw.
&nbsp
Batting
&nbsp
Bowling
| Bowler | &nbsp &nbsp Overs | &nbsp &nbsp Mdns | &nbsp &nbsp Runs | &nbsp &nbsp Wkts |
| --- | --- | --- | --- | --- |
| Ben Rumary | &nbsp &nbsp 6.0 | &nbsp &nbsp 1 | &nbsp &nbsp 26 | 0 |
| Andrew Boxall | &nbsp &nbsp 5.0 | &nbsp &nbsp 0 | &nbsp &nbsp 23 | 0 |
| David Brigden | &nbsp &nbsp 4.0 | &nbsp &nbsp 0 | &nbsp &nbsp 34 | 0 |
| Ken Cowan | &nbsp &nbsp 6.0 | &nbsp &nbsp 0 | &nbsp &nbsp 40 | 0 |
| Guthrie Miller | &nbsp &nbsp 4.0 | &nbsp &nbsp 0 | &nbsp &nbsp 35 | 1 |
| Paul Seldon | &nbsp &nbsp 8.0 | &nbsp &nbsp 0 | &nbsp &nbsp 39 | 2 |
| Alex Raynor | &nbsp &nbsp 7.0 | &nbsp &nbsp 0 | &nbsp &nbsp 31 | 2 |