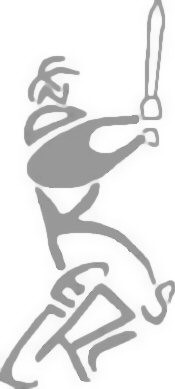 Knockers Vs Otford
Win ::
Played on Sunday 8th May 2011
Knockers
295-3
Otford
163-10
Match Report
A welcome return from legendary Knocker Paul Seldon saw him pick up a classy century in this comfortable Knockers win. Kyle Maguire proved immense behind the stumps and quick scoring in front of them. Guthrie Miller ensured an outright victory with four late wickets in this 40 over match.

Captain Paul Cook (50) elected to bat first and racked up his first Knockers fifty in a century opening partnership with Paul Seldon (125). Despite playing out two maiden overs it was the skipper who reached his landmark first with some lusty blows before being run out chasing a second run that wasn't there. When Kyle Maguire (76) joined Seldon a tiring afternoon looked in prospect for the young Otford team. Seldon reached his silky fifty playing as if he was at the end of a good-form summer, not after an enforced break of several years.

A bizarre on-field incident saw one Otford man walk off the field following an in-team altercation. A substitute was found and despite a relaxing of home team tensions the Knockers continued to dominate. A freakish run-out removed Seldon as Maguire was dropped on a caught and bowled only for the ball to squirm through the bowler's hands and hit the stumps with the centurion out of his ground. Maguire's confidence grew and his shots more powerful with it with a fifty in only his second Knockers turn-out. His LBW left it to Geoff Smith (12no) to join Guthrie Miller (11no) as an imposing 295-3 was reached at tea.

10 man Knockers took to the field in confident mood and opened with Lynden Spencer-Allen (5-0-35-1) and Shaun Berry (5-1-23-1). The Otford openers took an aggressive approach to chasing down the total and Spencer-Allen took some blows before finding his rhythm when he got one to rise and nick for Maguire's assured hands to take behind. New-boy Berry also got in on the action as the remaining Otford opener looped one back over the bowler's head for Scott Landers to run in from mid-off and take.

Dan Turner (7-1-14-1) stepped in for Spencer-Allen and Berry was followed by another Knockers débutante, Richard Harvey (8-0-75-2). Turner's LBW appeal was backed by the team and the umpire to compliment yet another tight and questioning example of bowling. Harvey took a vociferous approach and despite going for a few runs could have picked up more than his two wickets on the day with a Maguire stumping and a caught and bowled that he held onto despite a clash with Seldon at short mid-on.

The home team now unlikely to chase down the total were making a good fist of retaining wickets to the end. The ever-reliable Miller (5-0-14-4) stepped up with an LBW and a stumping each from Maguire and Turner. It was when the latter took the gloves that the champagne moment occurred. Maguire, newly installed at silly mid-off, turned a dispatched Miller full-toss into a brilliant wicket as he launched himself into a reactionary diving one-handed catch. Seldon (4-0-12-1) completed his comeback with tight-line bowling and a rattle of the stumps. Turner's stumping brought the matter to a close as the Knockers enjoyed their first win of the season.
&nbsp
Batting
&nbsp
Bowling
| Bowler | &nbsp &nbsp Overs | &nbsp &nbsp Mdns | &nbsp &nbsp Runs | &nbsp &nbsp Wkts |
| --- | --- | --- | --- | --- |
| Lynden Spencer-Allen | &nbsp &nbsp 5.0 | &nbsp &nbsp 0 | &nbsp &nbsp 35 | 1 |
| Shaun Berry | &nbsp &nbsp 5.0 | &nbsp &nbsp 1 | &nbsp &nbsp 23 | 1 |
| Dan Turner | &nbsp &nbsp 7.0 | &nbsp &nbsp 1 | &nbsp &nbsp 14 | 1 |
| Richard Harvey | &nbsp &nbsp 8.0 | &nbsp &nbsp 0 | &nbsp &nbsp 75 | 2 |
| Guthrie Miller | &nbsp &nbsp 5.1 | &nbsp &nbsp 0 | &nbsp &nbsp 14 | 4 |
| Paul Seldon | &nbsp &nbsp 4.0 | &nbsp &nbsp 0 | &nbsp &nbsp 12 | 1 |