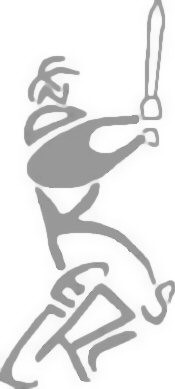 Knockers Vs Ightham
Win ::
Played on Sunday 21st August 2011
Knockers
322-3
Ightham
117-10
Match Report
Sam Spink's magnificent 171 not out was the highlight of Knockers' win against Ightham. The score is a new Knockers record. Batting first, Knockers got off to a good start through Spink and Ed Marsh (47). Spink then continued in partnership with Guthrie Miller (30) and Alex Hume (37*) as Knockers posted an imposing 322-3, hitting a six to secure the record.

In response, Knockers bowled tightly through Hume and Matt Watts (1-6), but it was the introduction of Ollie Marsh (3-15) that fully turned the game in Knockers favour, clean bowling three Ightham batsmen. Ightham responded promisingly with some powerful shots from Andy Moody, before he was removed by Chris McDowell (1-32). Guy Howe struck with one of his trademark googlies, before the coup de grace was supplied by Stuart Seldon (2-1), taking the final two wickets to secure a good win for Knockers.
&nbsp
Batting
&nbsp
Bowling
| Bowler | &nbsp &nbsp Overs | &nbsp &nbsp Mdns | &nbsp &nbsp Runs | &nbsp &nbsp Wkts |
| --- | --- | --- | --- | --- |
| Matt Watts | &nbsp &nbsp 6.0 | &nbsp &nbsp 3 | &nbsp &nbsp 6 | 1 |
| Alex Hume | &nbsp &nbsp 4.0 | &nbsp &nbsp 0 | &nbsp &nbsp 30 | 0 |
| Dan Turner | &nbsp &nbsp 4.0 | &nbsp &nbsp 1 | &nbsp &nbsp 22 | 1 |
| Ollie Marsh | &nbsp &nbsp 5.0 | &nbsp &nbsp 2 | &nbsp &nbsp 15 | 3 |
| Chris McDowell | &nbsp &nbsp 3.0 | &nbsp &nbsp 0 | &nbsp &nbsp 32 | 1 |
| Guy Howe | &nbsp &nbsp 1.0 | &nbsp &nbsp 0 | &nbsp &nbsp 12 | 1 |
| Stuart Seldon | &nbsp &nbsp 1.0 | &nbsp &nbsp 0 | &nbsp &nbsp 1 | 2 |