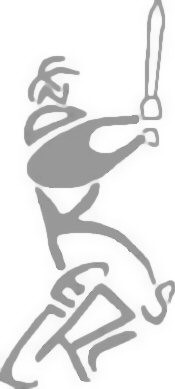 Knockers Vs Bradfield
Lose ::
Played on Friday 25th July 2014
Knockers
262-6
Bradfield
264-7
Match Report
This was an excellent game against a friendly and competitive opposition. A fine Knockers batting performance was followed by a rather abject fielding performance as we slumped to our first Norfolk defeat in two tours.

We batted well, with Miller and Spencer-Allen forming a powerful partnership. When Miller unluckily chopped on, Tom Watts continued the momentum and after Spencer-Allen retired, Barney Ford and Hemp continued the momentum to a powerful 260.

In response, Dan Turner bowled very well again and found good support in Rory Goodson. However, a somewhat tired Freddie Young couldn't get going at first change and he was replaced by Miller. Despite the return of Goodson and Turner we couldn't contain them and we eventually slumped to defeat in the final over.

A good game overall and a great BBQ was enjoyed after before the long drive home.
&nbsp
Batting
&nbsp
Bowling
| Bowler | &nbsp &nbsp Overs | &nbsp &nbsp Mdns | &nbsp &nbsp Runs | &nbsp &nbsp Wkts |
| --- | --- | --- | --- | --- |
| Dan Turner | &nbsp &nbsp 8.0 | &nbsp &nbsp 3 | &nbsp &nbsp 16 | 0 |
| Rory Goodson | &nbsp &nbsp 8.0 | &nbsp &nbsp 1 | &nbsp &nbsp 43 | 2 |
| Freddie Young | &nbsp &nbsp 5.0 | &nbsp &nbsp 0 | &nbsp &nbsp 40 | 0 |
| Barnaby Ford | &nbsp &nbsp 7.2 | &nbsp &nbsp 0 | &nbsp &nbsp 69 | 1 |
| Guthrie Miller | &nbsp &nbsp 7.0 | &nbsp &nbsp 0 | &nbsp &nbsp 53 | 2 |
| To be Replaced | &nbsp &nbsp 4.0 | &nbsp &nbsp 0 | &nbsp &nbsp 34 | 1 |