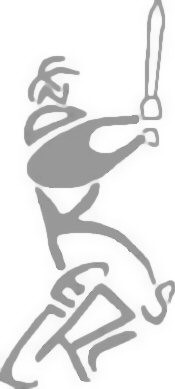 Knockers Vs Holmesdale
Lose ::
Played on Sunday 18th August 1957
Holmesdale
150-10
Knockers
29-10
Match Report
Sevenoaks Chronicle, 23rd August 1957

Knockers Knocked Out!

Knockers were no match for a strong Holmsedale side at Montreal Park on Sunday and lost by 123 runs on a very wet pitch.

Maxwell was again among the runs for the winners, hitting eight boundaries in his 43, and some hard-hitting by the tail-enders took the score to 150 by the interval.

Andrfews was the best of the visiting bowlers, causing something of a collapse in the middle batting by taking four wickets in nine overs for 27 runs.

Facing the combined attack of Vizard and Hirst, Knockers never recovered from the shock of losing their opening pair for one run, although their main batsmen, Roberts and Williams played sound defesive cricket for half-an-hour to put on 13 runs before the latter was bowled by Vizard.

Roberts was unlucky to be bowled out for nine after keeping his end up for nearly an hour.

In 14 overs Vizard took five wickets for six runs, while hirst, playing his last game before returning to Yorkshire, also bowled extremely well to collect five for 17.

&nbsp
Batting
&nbsp
Bowling
| Bowler | &nbsp &nbsp Overs | &nbsp &nbsp Mdns | &nbsp &nbsp Runs | &nbsp &nbsp Wkts |
| --- | --- | --- | --- | --- |
| Bill Andrews | &nbsp &nbsp 0.0 | &nbsp &nbsp 0 | &nbsp &nbsp 27 | 4 |
| Geoff Enderby | &nbsp &nbsp 0.0 | &nbsp &nbsp 0 | &nbsp &nbsp 46 | 3 |
| Ron Stanley | &nbsp &nbsp 0.0 | &nbsp &nbsp 0 | &nbsp &nbsp 37 | 2 |
| Ian Miller | &nbsp &nbsp 0.0 | &nbsp &nbsp 0 | &nbsp &nbsp 5 | 1 |